Erosion Control
Homeowners who have landscaped properties in Zanesville, Coshocton, Newark, and Cambridge are particular about maintaining them well. Many commercial properties also have extensive landscaped areas. However there are times when graded land creates some distinct problems as it shows signs of erosion. This can be a problem in a number of ways because erosion of soil can impact the softscaping as well as hardscaping on the property.
Erosion Issues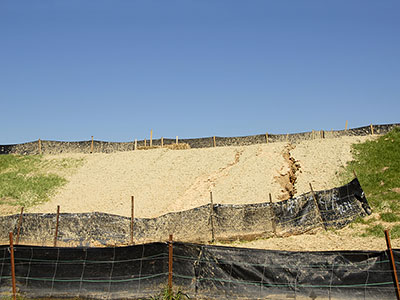 If the problem is very severe, it can damage the structure (house/commercial building), that stands on the property in Pataskala, Lancaster, Mount Vernon, Pickerington, Reynoldsburg or Athens. In some cases, if this problem isn't attended to on time, it can have catastrophic consequences and lead to very high repair and damage control costs.
The one way to avoid all this is to opt for Winland Complete Landscape Service's erosion control solutions. We are one of the leading landscaping companies in the region and have been operating in this field for over 15 years. In this time, we have built very strong relationships with all our customers and provide high grade customized erosion control solutions for residential and commercial properties. Since we are a family-operated company, you are always assured of personalized services and tight quality control.
Every job we take up carried out to 100% satisfaction of our customers. If you feel that there are signs of soil erosion on your property, we are the company for you. In most instances, flooding and drainage issues lead to soil erosion on properties. A poorly-designed or installed drainage system can result in a flooding which in turn can catalyze soil erosion.
The Erosion Prevention Process
When you call us with your erosion control requirement, our experts will come over to your location, survey the entire landscaping and understand what is causing the problem.
Based on the findings, we will then use a mix-and-match of solutions to stop the erosion from occurring and the situation from becoming more severe.
We may install surface water drainage- these systems draw all the excess water from the landscape and provide a very good path for the water to move into the centralized drainage system. These simple yet effective systems prevent flooding and help in erosion control.
A below ground drainage system may be installed; this helps remove excess water from flooded yards and goes a long way in preventing the soil from getting eroded.
In specific places, we will build retaining walls or boulder walls to provide stability to a slope and contain the soil.
Erosion-control blankets (nets made of special biodegradable materials) will be used in some places.
Storm water management aspects will be used to ensure that all the storm water is getting channeled away from the property.
As you can see, there are a number of aspects that have to be looked into as part of erosion control solutions. For more information, please call, Winland Complete Landscape Service on (740)-453-6270. You can also contact us via this
online form
.