Landscape & Hardscape Services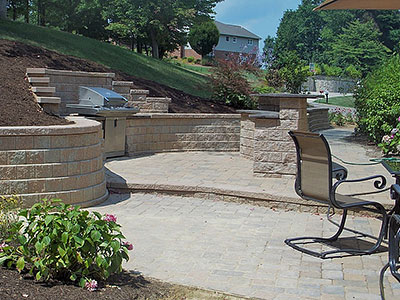 We at Winland's Complete Landscaping Service are a family-owned company that provides superior landscaping services to clients in and around Zanesville, Newark, and Blue Rock. Our company also proudly services Trinway, Columbus, East Fultonham and the surrounding areas.

Creating aesthetically appealing and functional landscapes is something we do with a great amount of passion. Our expertise has seen us successfully complete projects throughout Crooksville, and Cambridge and well. We also have a large number of returning and new clients from New Lexington, and Granville and the neighboring areas. The range of services we provide includes:


Landscape Design
Designing a landscape takes a considerable amount of experience, skill, knowledge as well as creativity. We have all of these attributes and have handled a large number of landscape design projects for clients across the region. Our team of landscape designers has the ability to take your ideas and preferences, incorporate their inputs and suggestions in order to make sure that you get beautiful outdoor spaces that will meet your lifestyle requirements and increase the value of your home.

We also provide excellent commercial landscape design solutions, ensuring that the outdoor spaces of your commercial property showcase your business to perfection. Our high quality landscape design solutions come at very cost-effective pricing which provides you value for money. Read More About Landscape Design >>


Landscape Maintenance
Once you have a well - designed landscape, it is also pretty important to ensure that it is maintained with regularity. That is the only way all of the softscaping and hardscaping elements will stay in good condition and retain their appeal. Well-maintained landscapes are a pleasure to look at, more usable and practical and increase the curb appeal and value of the property.

Regardless of whether you need a small yard space maintained or require grounds maintenance for your commercial property, we are the company that can provide customized services at very cost-effective pricing. We can create a good landscape maintenance plan that takes into account all the features and elements of your property. Read More About Landscape Maintenance >>


Paver Patios
A patio is one of the most widely-installed outdoor living features on residential properties. Certain businesses like restaurants and hotels may also have patios on their premises. If you want a resilient, durable and easy to maintain patio, it is a good idea to consider getting it paved with interlocking pavers.

We use high quality products and you can choose from a range of colors, designs, textures as well as patterns and styling. The paver patio that we build for you would be able to withstand regular wear and tear as well as exposure to the elements. This also means you get an excellent outdoor living space that will permit you to use your yard area optimally, right through the year. Read More About Paver Patios >>


Lawn Fertilization
Every lawn needs the right amount of nutrition at the right times in order to keep it healthy and green. This is where our lawn fertilization services come into the picture. We create customized plans that will meet the fertilization needs of your residential or commercial property. We understand that there will be different types of top soils and grass.

This is why we survey the installation before deciding which products and solutions would work best for your lawn. The regular care, use of specialized fertilization techniques and organic products go a long way in ensuring that all of your lawn spaces look stunning and stay healthy and resilient. Read More About Lawn Fertilization >>


Water Features
Installing different types of water features in the landscape is one of the best ways to add balance to the outdoor areas of your home or commercial establishment. As a full-service landscaping company, we recommend the inclusion of features such as waterfalls, fountains, ponds, streams etc.

All of these need to be used in the right measure and designed perfectly in order that they fit in well with the aesthetics of your outdoor spaces. We use the best design concepts and materials to ensure that the water features we design and build for you will last for a number of years with basic maintenance and care. Read More About Water Features >>


Erosion Control
If soil erosion is a problem on your commercial or residential property, it is very important that you get specialized soil erosion prevention installations for your landscape. Our expert landscapers will survey the available space in order to determine which installations would work well in your setting. Soil erosion can prove to be very detrimental to the integrity and overall stability of your landscaping.

This makes it necessary to hire the services of experienced and expert landscape professionals like us for the job. We use a number of different techniques, the latest products as well as materials in order to ensure that all of the problem areas are secured well and that you don't have to deal with problems like mudslides, sinking and erosion in your landscape. Read More About Erosion Control >>


Residential Landscaping
Our company provides excellent residential landscaping solutions. As part of these services we handle everything from conceptualization, planning and design, installation and maintenance. This means, regardless of whether you need a small yard designed and installed or a larger landscape planned, we are the professionals that can handle the job in an expert manner.

Our team will provide excellent hardscaping and softscaping design and installation services. We customize our solutions, making sure that our client's ideas and preferences are kept in view while creating plans for their landscapes. The use of high quality materials and workmanship helps ensure that you have landscapes which are resilient, easy to maintain, appealing and very durable too. Read More About Residential Landscaping >>


Commercial Landscaping
A commercial landscape is very different from a residential one. Its condition and appearance can have a major impact on the impression that customers and clients as well as employees have about the business, which can affect your reputation in the market. We make sure that the design and installation of commercial outdoor spaces is planned to perfection and that every feature is installed with care.

We have the ability, skill as well as resources and experience to handle all types of large scale commercial landscaping jobs. Not only do we design and install these areas but will also provide excellent ongoing maintenance solutions as required. We design commercial landscaping plans that meet our clients' requirements and make sure that every aspect of the job is completed to industry standards. Read More About Commercial Landscaping >>


Retaining Walls
Retaining walls are built at different points in the landscape where soil erosion is a problem. These specially-engineered walls could also be built in areas that have sloping land which needs to be excavated. The structures provide the backfill and the exposed slope a good amount of support, which increases the stability of the landscape.

We use high quality concrete blocks in retaining wall construction, ensuring that these features will perform very well and provide your landscape the support it needs. We have highly skilled retaining wall installers on our team that are able to build walls of any shape, size and height. Depending on your specific needs, we may also use natural stone, concrete and brick in retaining wall construction. Read More About Retaining Walls >>


Our expertise in this space allows us to provide custom landscape design and related services at very reasonable pricing. For any more information about our solutions or want to request a quote, feel free to call Winland's Complete Landscaping Service at 740-453-6270. We assure you of nothing but the best services at all times. You can also use this Contact Us form to send us your project details or queries.