Residential Customers
Residential Gallery
Winland's Complete Landscaping will give your home a fresh, new look or simply freshen up your current gardens. Our creative team will work with you to create an amazing patio for dining coupled with the soothing sounds of a pondless waterfall in the background. Or, if you prefer they can help you get cozy behind a fence nestled with foundation planting and perennials and shrubs that provide seasonal blooms! We even are happy to simply come and plant the perfect tree. We are proud to be the area's only complete landscape design and build company.
Click here to see photos »
Click here to see photos »
Click here to see photos »
Click here to see photos »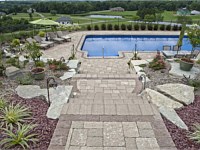 Cameron Patio
We transformed this sloping hillside into a sunny, playful poolside retreat. The textured pavers mix well with the natural stone retaining wall. An added feature to awaken the senses; two disappearing waterfeatures appear from the boulders and falls gracefully into the pavers. All lit with LED lights that are controlled with a remote.
Click here to see photos »