Water Features
Today, residential and commercial property owners across Lancaster, Mount Vernon, Pickerington, Reynoldsburg and Athens are making every effort to get stunning landscapes designed and installed on their properties. Landscaping is not just a single aspect, but many features put together to create a beautiful whole that complements the look of your home or commercial building to perfection.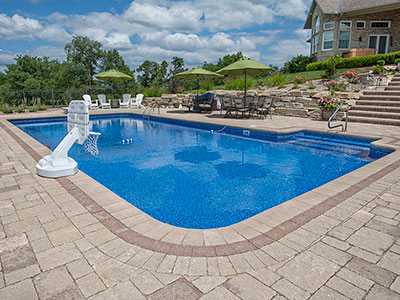 Water Fountains and More
In this respect, the different features used on properties in and around Zanesville, Coshocton, Newark, Cambridge and Pataskala are lawns, flower beds, hardscape features and of course- water features! The latter add a distinct charm to any landscaping and make these outdoor spaces livelier and fresher. Addition of a water feature to the landscape can be part of a larger design and install project or a standalone installation too.
Types of Outdoor Water Features
Many of our customers ask for installation of water fountains, ponds, waterfalls etc. We provide solutions based on your specific requirements and ensure you get the kind of outdoor water fountains and other features you want. The different types of features we can install are: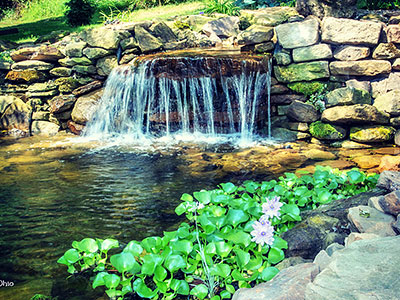 Waterfalls - These are an excellent addition to a commercial or residential property and we can create just the look and ambience you want, by designing and installing a waterfall that fits perfectly into the concept of the rest of the landscaping. In many ways, this waterfall also helps in blocking out surrounding sounds, in case you home is located on a busy street.


Ponds - This feature fits in better on a larger property, but we have the expertise to create even smaller ponds if that is your requirement. The spot for the installation has to be chosen with care as the aquatic plants and any fish you may add to the pond, have to get the right amount of shade.


Fountains - Wall fountains and outdoor fountains are also commonly used water features on commercial and residential properties. In some instances these could be pondless too. This means, there will be no pond at the base of the waterfall. There will be a mechanism via which the water from the installation, seeps into the ground and gets diverted back into the waterfall. Pondless waterfalls are excellent for homes that have kids or pets and are much safer compared to the ones that have ponds.


Bubbling Boulders - If you have modestly-sized outdoor spaces and still want some water features, bubbling boulders are an excellent choice. These boulders are available in a range of sizes and are bored through. Water flows out of these holes in a bubbling motion - they are essentially a smaller version of a fountain and very popular features in many homes.


If you want any water features installed on your property, Winland Complete Landscape Service is the company to come to. We will provide customized solutions and personalized services. With over 15 years of experience in this field, when it comes to landscaping and related services, there is nothing we can't handle. For more information, call us on (740)-453-6270. You can also contact us via this
online form
.